Saturday, April 3, 2010
Song:
I Believe in Christ
Read:
John 19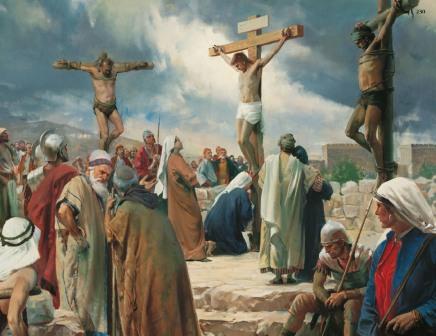 Discussed the crucifixion then watched The Easter Dream.
Posted by

Lin Ryals
at 5:33 PM
No comments:
Links to this post

Sing:
He Sent His Son
Read:
Matt 26: 47-56
We talked about the betrayal of Jesus. Then we played the
Friendship Matching game
. Print out the page twice.
Posted by

Lin Ryals
at 5:18 PM
No comments:
Links to this post

Song:
He Died That We Might Live Again
Read:
Mark 14:12-21
We talked about Jesus praying in Gethsemane. When my kids are a bit older we'll do this
crossword puzzle
but since they aren't quite big enough for that we just ended after the story. My kids were sad enough over that.
Posted by

Lin Ryals
at 5:12 PM
No comments:
Links to this post

Friday, April 2, 2010
My neighbor told me about this. Her 6 yo and 2 yo are LOVING it so I'm going to start getting things organized here for it. I'm so excited! I think it'll be fun!
Okay... the kids earn "Daddy Dollars" or "Mommy Money" by completing tasks/chores/school or whatever you want the kids to do. Then they get to go to the "Mommy Mart" to spend the 'money'. It can be small toys/candy/tv time/computer time/family walks/game night/movie night/out for icecream...etc. Whatever you can think of that your kids would enjoy. You go to this site to print out the money.
Here's out money (it's me b/c dh wouldn't pose for a pic, I didn't have a good one of him and he didn't want it on there anyways -- the bum!! haha! )

Here's the chart that I made today. I used a manilla folder and folded it so that it was a tri-fold (lapbook style:).
This is the inside ---

Here is the outside. This is where the kids' money that they've earned goes --

Here's a close up of jobs and rewards -- remember, my kids are 4 & 2 so I thought the pictures would be useful. 4 yo can read some words but I thought this would be more helpful for him.


Posted by

Lin Ryals
at 6:39 PM
No comments:
Links to this post

Posted by

Lin Ryals
at 6:37 PM
No comments:
Links to this post